Michelle Matanich Rispoli, design manager for Starbucks, needed a really eco-friendly and beautiful tile for a high-profile renovation in New York.
Here's why she reached for Trikeenan's Willful Blue 3×12.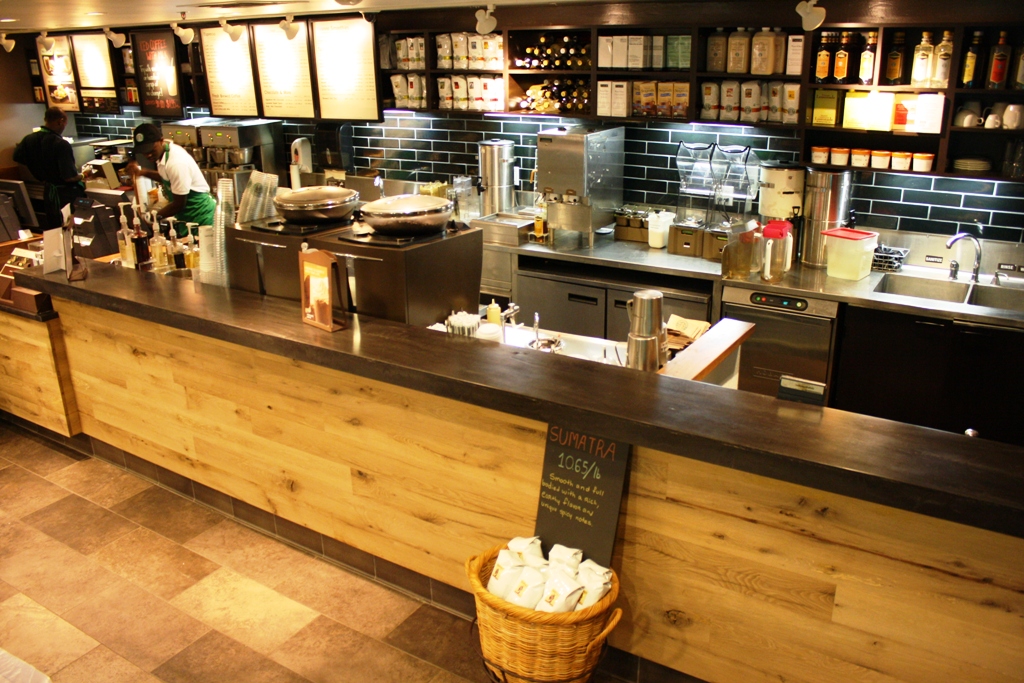 When Michelle Matanich Rispoli saw the new Willful Blue tile from Trikeenan, she knew right away that she wanted to use it for an upcoming project. "I loved the glaze.  We were looking at new products and I grabbed a sample.  I liked everything about it: the color, the scale, everything.  I liked that the glaze was reclaimed."
Not long after, she specified Willful Blue for a high-profile renovation to the Starbucks store at 78th & Lexington in Manhattan, using a 3×12 tile in what she calls a 'take off on the subway look."
"There's something unique about [Willful Blue]," Matanich Rispoli says.  "It's sophisticated, yet it has an earthy quality. It's different."
Another appeal was the fact that Trikeenan is a US manufacturer, with factories in New York and New Hampshire.  "There aren't a lot of tiles made in this region," says Matanich Rispoli.   Under the USGBC, products manufactured within 500 miles of the building site can contribute up to two LEED points, because sourcing locally is good for the environment.
All of which made Trikeenan's latest tile offering fit perfectly, says Matanich Rispoli, with the design philosophy that Starbucks is bringing to its stores.  "In general," she explains, "we're trying to specify Green products whenever possible, and to incorporate locally relevant, sustainable finishes.   We're working really hard to go in that direction, and this whole space was designed with that philosophy in mind."
The design team also used reclaimed wood in the bar and community, recycled-content flooring, energy efficient lighting and other environmentally friendly products.  The store also offers a community board to help connect customers around the company's Shared Planet™ message.

Before & After:  Starbucks at 78th & Lexington, NY, NY
Willful Blue and other eco-friendly products transformed this high-profile Starbucks into a Green, coffee lover's paradise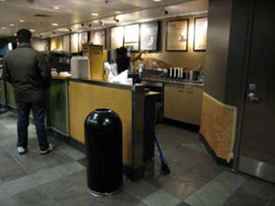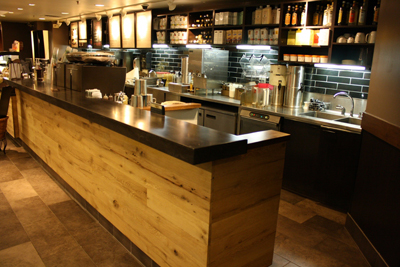 All photos courtesy of Tetsuo Honda, Piece Management Inc./Starbucks
What Makes Willful Blue So Uniquely Green
Willful Blue is the first in Trikeenan's new Reclamation Collection, a series of glazes the company is developing using 100% reclaimed glaze waste from its New York factory.
"[Trikeenan] installed a closed-loop system in our New York factory to ensure that the water going out of our facility is as clean as it is coming in.  As part of this process, we gather all of the excess, run-off glaze from the manufacturing process.  Glaze run-off is typically a waste product – something that's thrown away.  But we wanted to see if we could recycle it."
"After a lot of experimentation and testing, we realized that we were on to something – it was really beautiful! And the Reclamation Collection was born."
More Reclamation Collection glazes will be introduced in the near future.